A TRANSFORMATIVE LEARNING EXPERIENCE
Invest in yourself, your career and your organisation
The Executive MBA programme is a transformative learning experience targeted at senior managers and executive leaders who consciously want to enhance their ability to conceptualise, rather than their proficiency in functional management.
EMBA candidates will learn to:


Go beyond knowledge and theory to include the felt experience of being in management
Become more authentic in their engagement
Find new purpose and fulfilment in their role and develop greater resilience in the workplace
Develop the capacity to integrate multiple perspectives and strategies to build more holistic and sustainable organisations
* Application & Course fees are provisional for 2022, and are subject to annual UCT council approval
---
Course Start Date:
24 February 2023
---
Application Period:
1 May 2022 - 31 January 2023
---
---
Application Fee:
1940 ZAR / 300 USD
---
THINK AND LEAD DIFFERENTLY
Prepare yourself to lead in a world of new ideas
The UCT GSB EMBA will expose you to different ways of viewing the world, and build your capacity to integrate multiple perspectives and strategies for a more holistic and sustainable organisation.
For your convenience, this is a modular programme with a reasonable workload: five, two-week modules held at the UCT GSB Breakwater campus in Cape Town – South Africa's most iconic and beautiful city.
#1+
Ranked EMBA in Africa
#60
Ranked globally by QS Global EMBA Rankings
40%
are female executives>
30%
of the EMBA class are entrepreneurs>
FREQUENTLY ASKED QUESTIONS
The UCT GSB Executive MBA (EMBA) is aimed at senior level, experienced individuals who consciously want to enhance their ability to conceptualise and execute, rather than their proficiency in functional management. Whereas, the MBA programme at the UCT GSB is geared toward aspiring up and coming managers who want to hone their management skills, and as such, the MBA is strong on content in respect of the core disciplines of management
An Executive MBA is not full-time. Learning on the EMBA is interactive and collaborative and happens both in class and in the workplace between modules. Although contact time at the UCT GSB is only 12 weeks over the two years, the EMBA is an immersive experience that will require consistent attention in between modules.
You will need to bring yourself and your experience to the classroom and be prepared to learn from others as much as from your teachers. The interactive nature of the programme requires that you attend all contact courses and contribute to the collective experience. Courses are assessed through group and individual assignments.
Once you graduate from the UCT GSB you will join our alumni network which is a dynamic forum comprising more than 23 000 past GSB students in 68 countries worldwide. Many of the GSB's alumni hold key positions in top companies or have started their own successful businesses. Alumni play a vital role in supporting and encouraging more recent graduates to follow in their footsteps and GSB students who find employment after graduation - particularly internationally - frequently do so through alumni contacts.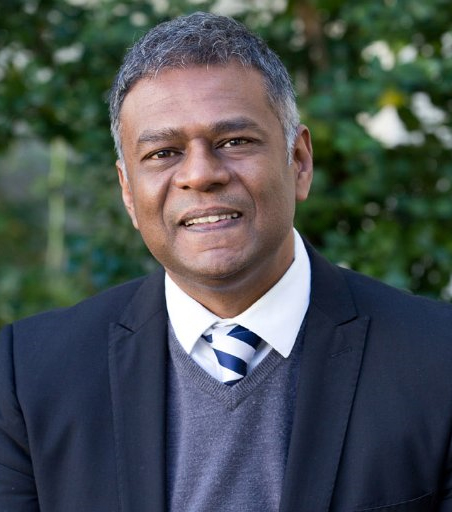 MEET THE PROGRAMME DIRECTOR
ASSOCIATE PROFESSOR KOSHEEK SEWCHURRAN
Associate Professor Kosheek Sewchurran is Director of the Executive MBA programme at the UCT GSB. His responsibilities on the EMBA include designing the programne conversations, interventions and pedagogical outcomes to nurture the development of executives who are able to, in their actions and their being, lead authentically in the societal context humanity experiences.
As a scholar Sewchurran is primarily interested in organising practices and research that acknowledge the realities of a lived-experience. This scholarship finds expression in the conversation he convenes related to Business Model Innovation, Strategy-as-practice and Leadership-as-practice.
Before he joined the UCT GSB, he was Assoc Prof and HOD of the Department of Information Systems at UCT's Faculty of Commerce. Prior to entering academia, he spent a little over a decade on manufacturing projects, working as a Systems Engineer optimising plant automation and designing and implementing enterprise information systems.
Sewchurran holds a doctorate in Project Organising (PhD) from UCT; a Master of Science in Systems Thinking (MSc) from UKZN; a Bachelor of Science Honours in Computer Science (CompSci) from UKZN; and a Bachelor of Science in Software Engineering and Operations Research (BSc) from UNISA.
Ideas Exchange
News and thought leadership from Africa's top business school