Year in Review
The UCT GSB Year in Review offers an opportunity to review our progress and reflect on all the aspects of the school that have made us proud, and continue to do so. Sign up to receive the digital or print copy of the Year in Review annually.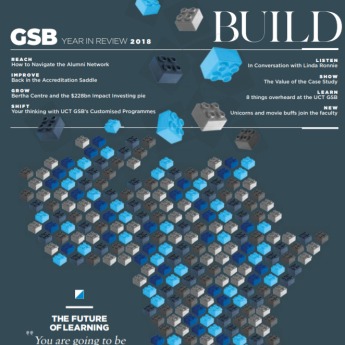 2018 Year in Review
The UCT GSB had a tremendous 2018 – so successful, in fact, that it was impossible to include all our achievements into the inaugural edition of the UCT GSB's annual Year in Review. The edition focused on the theme: Build, a nod to UCT GSB's interactive building block creative campaign, with the same title, in partnership with Cape Town based designer and tessellation artist Faatimah Mohamed-Luke.

The edition features:
WEF Young Global Leaders Summit and MBA World Summit hosted by the UCT GSB
How the Bertha Centre for Social Innovation and Entrepreneurship and the Development Finance Centre have positioned the school as a thought leader in impact investing
The NYU Stern School of Business study tour at the UCT GSB-run Solution Space in Philippi
Case studies of customised programmes designed for Santam and Standard Bank
Interviews with new faculty members Grieve Chelwa, Christina Swart-Opperman and Associate Professor Mikael Samuelsson
Read More
2019 Year In Review
According to the UCT GSB's 2019 interim director, Kosheek Sewchurran, "Growth is the great separator between those who succeed and those who do not.
This edition focuses on how the UCT GSB continues to grow as a leading business school in Africa through its programmes, faculty, specialised units as well as physical structure.
Highlights include:
Launch of the new academic conference centre
Solution space new e-Track programme, which aims to help businesses take their business idea and let it grow
Case writing centre studies on UCOOK's growth and expansion challenges, the beleaguered SABC, the energy-drained Eskom and the Markus Jooste chaos of Steinhoff international
Power Futures lab and its outsize impact on the energy sector across the African continent.
Profiles of the diverse selection of international and local thought leaders who visited the UCT GSB, including the likes of Mcebisi Jonas.
Read More