A SOLID FOUNDATION IN DEVELOPMENT FINANCE
Development finance has the power to address critical issues in emerging market economies.
The UCT GSB Postgraduate Diploma in Development Finance provides a comprehensive overview of:
trade finance
banking and finance in emerging markets
public-private partnerships
environmental finance and sustainability
risk management in development finance institutions.
The programme is accredited by the Chartered Institute of Development Finance (CIDEF) and will provide valuable credits for students who want to attain full professional membership of CIDEF.
* Application & Course fees are provisional for 2022, and are subject to annual UCT council approval

---
Course Start Date:
06 April 2022
---
Application Period:
17 May 2021 - 28 February 2022
---
---
Application Fee:
1850 ZAR / 300 USD
---
uct gsb PGDIP IN DEVLOPMENT FINANCE overview
INNOVATIVE TEACHING
Our teaching, learning and research is directed towards building a more economically prosperous, equitable and integrated continent
Teaching on the Postgraduate Diploma in Development Finance draws heavily on case study analysis with minimal exploration of theoretical concepts.
It provides those who work in, or are intending to work in, development finance institutions or support organisations, government or the financial sector a thorough understanding of the field.
FREQUENTLY ASKED QUESTIONS
You will benefit from the PGDip in Development Finance if you:
Are a graduate of a commerce-related degree and are looking to enter the development finance field
Work in various areas of government such as finance, policy or commerce
Work in an NGO
Are interested in the UCT GSB MCom in Development Finance but do not have the requisite four-year honours degree
The first block of the programme is intensive and immersive. Four of the five compulsory courses will be completed. Students will then be required to submit separate assignments for each course before the second block starts. In addition, they will be required to sit for exams before the start of the second block.
Once you graduate from the UCT GSB you will join our alumni network which is a dynamic forum that comprises more than 23 000 past UCT GSB students in 68 countries worldwide. Many of the UCT GSB's alumni hold key positions in top companies or have started their own successful businesses. Alumni play a vital role in supporting and encouraging more recent graduates to follow in their footsteps and UCT GSB students who find employment after graduation - particularly internationally - frequently do so through alumni contacts.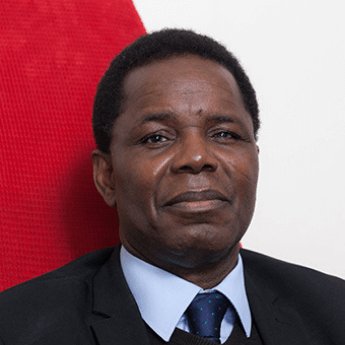 MEET THE PROGRAMME DIRECTOR
PROFESSOR NICHOLAS BIEKPE
Professor Nicholas Biekpe is a Professor of Development Finance & Econometrics & Programme Director for the UCT GSB's Master of Commerce in Development Finance (MCom) and Postgraduate Diploma in Development Finance degree programmes.

PGDIP Development Finance Info Session Webinar
04 November 2021
13:00 (GMT+2)
?Join us for an information session webinar about the UCT GSB's Post Graduate Diploma in Development Finance (PGDip Dev Fin).
Learn more
RSVP