HOW TO APPLY FOR THE PGDIP IN MANAGEMENT PRACTICE
Ready to start your PGDip application? Follow the step-by-step process.
Once you have enquired on our website, you will receive an email containing your unique Pre-application Portal Link. This sets you up with UCT GSB's admissions team, your support along the application process. Each step of the process will be clearly indicated on the portal, with specific instructions for what to submit.
NB: Before you proceed please ensure you meet the entrance criteria for the programme.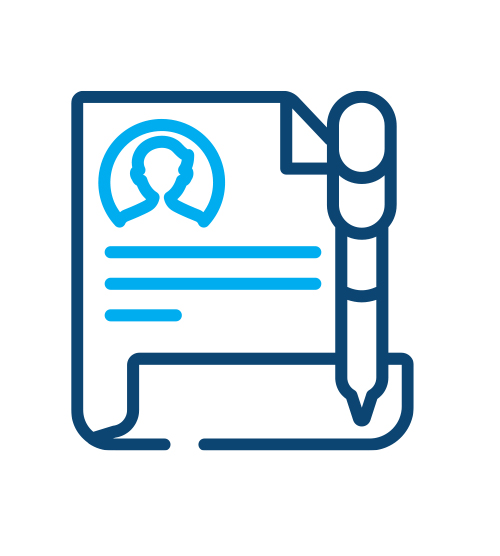 START YOUR PRE-APPLICATION JOURNEY
This allows us to get to know you and gives you the opportunity to gather all your information in one place.
This allows us to get to know you and gives you the opportunity to gather all your information in one place. You can leave and return as you need to before making your final submission.
This section will include:
Personal information, including educational background and work history.
Three motivation essays. Specific instructions will be provided on the pre-application portal at this phase. You will be required to submit the essays in step two of the process. Examples of questions include:

What is your motivation for applying for the programme which you have chosen at this stage of your career and how will this programme help you in achieving your vision and goals for your future?
How do you plan on managing the pressure and delivery of the programme; specifically with the support structures you put in place as well as ensuring that you have sufficient internet accessibility for online sessions.
What are the challenges that you foresee with the application of your learning in your workplace (to get stakeholder buy-in/access to information etc.) and how do you plan to overcome these?

Evaluator forms. You are required to provide contact details of two people who will provide a reference in support of your application.
Applicants whose mother tongue is not English will be required to produce a TOEFL certificate to verify fluency in English.
Create your official UCT student record

For this step, you will be required to submit certified copies of your:
Identity documents
CV
Certifications
Transcripts (if non-UCT)
The UCT GSB Admissions team will receive notification once this step is completed.
Upload your documents on the pre-application portal

This will allow the UCT GSB admissions administration team (who are currently working remotely due to operational disruptions caused by COVID-19) to process your application faster and more efficiently, and helps to ensure that your application submission is complete and accurate.
This covers the administrative costs of your application

Application fees are non-refundable. Paying an application fee does not mean that your application will be successful.
| | |
| --- | --- |
| Citizens of all African countries | R1 940 (One Thousand Nine Hundred and Fourty Rand) |
| Applicants from all other countries | US$ 300 (Three Hundred US Dollars) |
UCT GSB Bank Account Details
| | |
| --- | --- |
| BENEFICIARY | UNIVERSITY OF CAPE TOWN - GSB Account No. 9 |
| BANK | Standard Bank SA Ltd. |
| BRANCH | Rondebosch, Western Cape |
| ACCOUNT | 072953004 |
| SWIFT CODE (FOR INTERNATIONAL PAYMENTS) | SBZAZAJJ |
| BENEFICIARY | UNIVERSITY OF CAPE TOWN - GSB Account No. 9 |
| GSB REFERENCE NUMBER FORMAT | GSB/Surname/FirstName-OR-UCT student number |
Keep your hard copies safe as these may be requested in future

All documents submitted in support of your application must be verified for authenticity. This is usually done by submitting hard copies of your documents but due to the current remote-working situation on campus we ask all applicants to retain their hardcopies and keep them safe. You may be requested to supply these in future, but please do not send any hard copy documentation to the UCT GSB Breakwater campus unless specifically requested to do so.