Learn the processes and strategies for mobilizing and aligning finance for development (F4D)
Mobilizing (sourcing) & aligning (re-structuring) financial resources for sustainability
In response to the challenge of coordinating the roles of multiple stakeholders to bridge the financing gap for sustainable development in emerging economies, the Master of Commerce Degree in Development Finance (MDevFin) programme offered by the Development Finance Centre (DEFIC) is designed to build capacity on how to design innovative financial instruments and the approaches to incorporating responsible investment strategies in the allocation of funds for impact and sustainability. This is achieved through a blend of traditional lecture sessions with case studies and interaction with professional experts from development finance institutions, public and private sector actors throughout Africa.
The programme provides institutional learning outcomes which will ensure that funds channelled through development projects can provide optimal and sustainable outcomes that can enhance the development of emerging economies. The programme covers 10 courses and 60-credit minor dissertation dedicated to uncovering insights on the ecosystem of development finance covering the role, mechanisms/instruments and impact of various stakeholders involved in mobilization and aligning of finance for sustainability.
* Application & Course fees are provisional for 2023, and are subject to annual UCT council approval
---
Course Start Date:
Monday, 04 March 2024
---
Application Period:
1 May 2023 - 31 January 2024
---
---
Application Fee:
2070 ZAR / 300 USD
---
uct gsb MCOM in Development Finance Overview
INFLUENCE DEVELOPMENT TRENDS IN EMERGING MARKETS
The UCT GSB MCom in Development Finance is the first to reflect development finance activities in the continent
Our MCom in Development Finance will give you the ability to conduct high-level research and engage in the policy decision-making process in development finance institutions, government, NGOs and the private sector.
As your financial skills grow, you will gain a solid understanding of application in the international development context and gain the expertise to start initial investments that can thrive in economically challenging markets and provide sustainable outcomes.
About UCT GSB MCOM in Development Finance
390+
MCOM graduates since 2013
55%
Females student population
10+
Peer-reviewed publications from
student dissertations >
15+
Representation from 15+ Africa countries outside South Africa.>
FREQUENTLY ASKED QUESTIONS
As a professional discipline, Development Finance is widely practised today across a broad range of organisations and contexts. However, there is a shortage of development finance experts in Africa, where this kind of knowledge is needed most.
Development finance skills can be useful in providing optimum financial outcomes that enhance the design and implementation of reforms and capacity-building programmes adopted by development finance institutions, governments, the private sector and NGOs.
You don't need to be working in a development finance institution to benefit from this degree. These skills are also widely used by people in other contexts, including banking and financial services.
Applicants to this programme are typically:
development finance practitioners
civil servants
staff of development finance institutions
staff of other financial institutions
entrepreneurs
staff of NGOs
employed in the private sector
Yes! Our MCom in Development Finance, presented through DEFIC, is a partnership programme between the GSB and the Africagrowth Institute (AGI), an independent organisation providing research and consulting on growth opportunities in Africa.
The GSB is one of a small number of universities world-wide offering this degree accredited by the Chartered Institute of Development Finance (CIDEF). CIDEF is a global professional membership and certification body for development finance specialists.
DEFIC is an active member of the CIDEF global development finance network with members from major institutions including the African Development Bank, Development Bank of South Africa, Afreximbank, AERC, Industrial Development Corporation, SADC-DFRC, KPMG and the South African National Treasury, to name just a few.
Click here for more information on DEFIC.
Yes! The MCom in Development Finance intake often includes up to 60% international students. This provides graduates with a professional network of practitioners in Africa and beyond.
Upon completion of the degree you will become a member of the Chartered Institute of Development Finance.
In addition, you when you graduate you will join the wider GSB alumni network – a dynamic forum that comprises more than 23 000 past GSB students in 68 countries worldwide. Many of the GSB's alumni hold key positions in top companies or have started their own successful businesses. Alumni play a vital role in supporting and encouraging more recent graduates to follow in their footsteps and GSB students who find employment after graduation – particularly internationally – frequently do so through alumni contacts.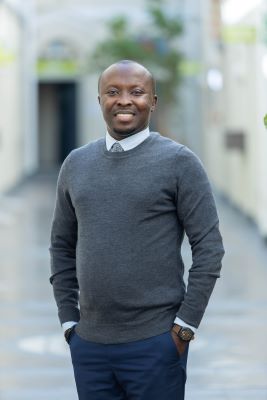 MEET THE PROGRAMME DIRECTOR
ASSOCIATE PROFESSOR LATIF ALHASSAN
Abdul Latif Alhassan (PhD) is an associate professor in development and insurance finance at the Development Finance Centre (DEFIC), UCT GSB. He teaches research methodology and banking and finance in emerging markets courses on the Master of Commerce and Postgraduate Diploma in Development Finance programmes respectively. He is the Head of Minor Dissertation for students during the research year of the programme. Within the UCT GSB, he chairs the Postgraduate Committee (PGC) and is a member of the University Panel on Responsible Investments (UPRI) and the Board for Graduate Studies (BfGS).

IDEAS EXCHANGE
News and thought leadership from Africa's top business school