HOW TO APPLY FOR THE PHD IN BUSINESS ADMINISTRATION
The decision to pursue a PhD is not one to be taken lightly, and it's important that you fully consider the time and effort commitment required to complete.
The PhD application process includes a number of steps with some preparation required for each. Before you begin, please ensure that you are familiar with the entrance requirements for this programme, and that you have prepared all necessary documentation.
NB: Please do not attempt to contact a supervisor directly before you have been advised to do so.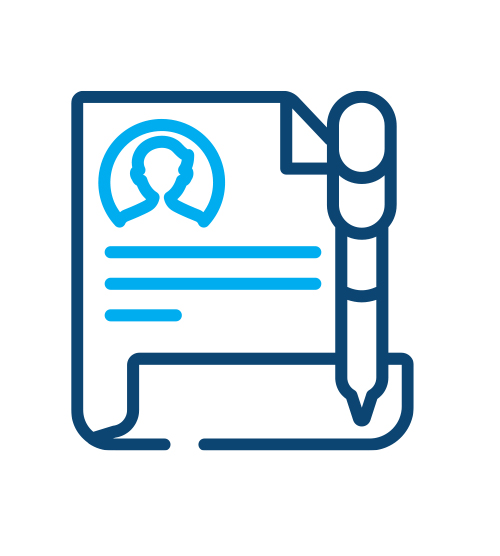 START YOUR PRE-APPLICATION JOURNEY
This allows us to get to know you and gives you the opportunity to gather all your information in one place.
If you have enquired about the programme, you will receive an email with a unique link to your personal application portal. Click on 'start your application now' in the email you have received to begin.
The first pre-application step will include the following screens:
1. Personal information – tell us more about yourself
2. Master's Dissertation – Share your previous Master's
dissertation via URL
3. File uploads - upload all files as detailed below
4. Statement of integrity - assurance that all information has been
provided truthfully, and confirmation that you have completed
this step.
PREVIOUS MASTERS DISSERTATION
Applicants to the PhD programme are usually expected to have graduated from a relevant Master's programme. When you submit your programme application, please share your previous research with us.
The link to your Master's Research Report dissertation and mark obtained (you need to have graduated at the time of registration) will be required.
MOTIVATION ESSAYS
To help you prepare, please see guidelines for your essays
Please write clearly and openly about yourself.
Give examples where useful.
Each motivation should be a minimum of 300 words and a maximum of 400 words.
Motivation Questions
Motivation for wanting to complete a PhD - tell us about your research background, and why you want to pursue a PHD.
Motivation for wanting to complete a PhD at the GSB - tell us why the UCT GSB is the best place to pursue your PHD
Motivation for proposed supervisors - provide the names of your 1st and 2nd choice supervisors, with justification for why you think they're a good fit. (NB: Please do not contact the supervisor at this stage. Potential supervisors and their areas of research interest are available on the faculty page)
PRELIMINARY RESEARCH PROPOSAL
Applicants to the UCT GSB PhD programme are required to prepare a preliminary research proposal. Your preliminary proposal should be approximately 5 pages in length or 2 500 words. The purpose of the proposal is to make a case for the research to be undertaken.

It will need to show that:
the applicant has the ability to identify a pertinent research question,
has at least an initial grasp of the relevant literature,
and has some of the necessary competencies in research methodology and practice that are required for the completion of an independent study research degree.
The proposal should include (not necessarily in the following order):
An abstract of 100 words
An outline of the essential background literature
The rationale of the proposed research, with reference to the intended practical and theoretical contributions
The key question(s) to be addressed and the main objectives of the research
The approach to be taken in doing the project, including a preliminary outline of the proposed research design and data generation and analysis methods
References
PREPARE YOUR DOCUMENTS FOR FILE UPLOAD
Certified copy of SA ID (or passport for international applicants)*
Certified copy of previous academic transcript(s)*
Certified copy of degree certificate(s)*
Proof of English language proficiency for international applicants (This is required if you are not a native English speaker or if previous schooling was not in English)
All motivations as described above (ideally in PDF or MS Word.doc format).
Preferred Supervisors Form (Do not initiate contact with any supervisor yet. You will receive communication when and how to do so.)
*NB: Please make sure you are uploading CERTIFIED copies of the required documentation
Once you have completed this stage, your pre-application will be screened by the PhD Admissions Board to assess your fit for the programme. Should your application appear to meet all requirements, you will be invited to complete step 2.
A formal supervision request to your prospective supervisor is required.
Please note: You can only proceed to this step once you have successfully made it through Step 1 above.
Prospective applicants who have met all necessary requirements will receive an email indicating that the screening process is complete.
At this stage a formal supervision request to your prospective supervisor is required. The template for this request, as well as the contact details of the supervisor, will be provided via email.
The prospective supervisor will return the completed form to you by email, indicating confirmation or otherwise, of their availability for supervision on your research. If your first choice of supervisor is not able to supervise your study, you may only then send the request form to your second choice of supervisor. (please do not approach the second supervisor before you have received feedback from your first choice)
The completed supervision approval form will then need be uploaded and submitted via the application portal link provided.
The admissions team will now continue with the assessment of your application.
Please note that even if your supervisor request has been approved by the prospective supervisor, final acceptance to the program is still subject to selection committee assessment. If neither supervisor approves your request for supervision, we do encourage you to continue working on your research and to submit another application in the next academic year.
Create your official UCT student record
Before proceeding with your UCT Central application submission, please ensure you have:
Completed the pre-application in Step 1 above.
Confirmed your nominated supervisor with the UCT GSB Research Office, and have received feedback that the requested supervisor has capacity to supervise you.
Completed your preliminary research proposal in accordance with the guidelines provided.
When completing the "Programme of Study" section, please select the following:
Select 2022 academic year
Level of Qualification: Doctoral
Faculty: Commerce
Academic Qualification: Doctor of Philosophy
Specialisation: Business Administration
Applicants must complete the online application and upload all the required documents. Please retain a copy of all submitted documents.
This covers the administrative costs of your application
Application fees are non-refundable. Paying an application fee does not mean that your application will be successful.
| | |
| --- | --- |
| South African and SADC applicants | R100 (One Hundred Rand) |
| Applicants from all other countries | R300 (Three Hundred Rand) |
Keep your hard copies safe as these may be requested in future
All documents submitted in support of your application must be verified for authenticity. This is usually done by submitting hard copies of your documents but due to the current remote-working situation on campus we ask all applications to retain their hardcopies and keep them safe. You may be requested to supply these in future, but please do not send any hard copy documentation to the UCT GSB Breakwater campus unless specifically requested to do so.