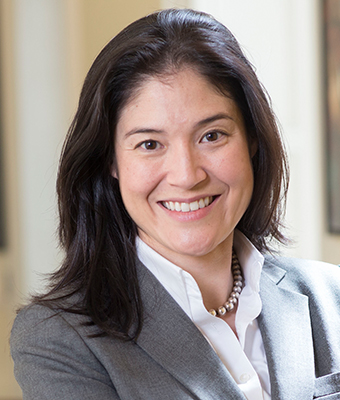 Dr Catherine Duggan
Business in Africa, Political Economy, Institutional Development, Microfinance, Financial Markets and Financial Regulation in Africa
POSITION:
Director: UCT Graduate School of Business
QUALIFICATIONS:
PhD (Stanford University), BA (hons)
Dr Catherine Duggan
Catherine Duggan is Director (Dean) of the University of Cape Town Graduate School of Business (GSB).
Before joining the UCT GSB she was Vice Dean and Professor of Management and Political Economy at the African Leadership University School of Business (ALUSB) in Rwanda. At ALUSB she was the founding Vice Dean and the business school's first faculty member and helped to design the school's blended MBA curriculum. She also created and taught the popular Politics, Economics, and the Context of African Business (PECAB) course and led the school's executive education programs, including the school's collaboration with INSEAD on an Africa-focused executive education program.
She was previously a professor at Harvard Business School (HBS) in the Business, Government, and the International Economy (BGIE) Unit, where she taught leadership and political economy in MBA and executive education programs for nearly a decade. At HBS she was the first woman in the school's history to win the Faculty Award for Outstanding Teaching in the Required Curriculum two years in a row. She also received the Charles M. Williams Award for Excellence in Teaching and was named the Berol Corporation Fellow.
Dr Duggan has been a Visiting Scholar at the University of Oxford's Saïd Business School (SBS), where she taught the Doing Business in Africa course in the MBA and EMBA as well as Africa sessions in several executive education programs. She has taught courses and sessions on leadership, political economy, and doing business in Africa at various business schools in the United States, Europe, and Africa.
Dr Duggan's academic work is on the political economy of development in Africa, with a particular focus on institutional development and financial sector regulation. She has worked on the continent for more than twenty years and gained experience in nearly two dozen African countries. She is the author of a number of case studies on African firms and countries, including cases on South Africa, Nigeria, DRC, Zimbabwe, Guinea-Bissau, Kenya, Uganda, Rwanda and others. She regularly leads strategy and leadership workshops for corporations and has advised a number of governments and public sector agencies on the continent and beyond.
She earned a Ph.D. in Political Science from Stanford University, where she was the G.J. Lieberman Fellow for the Social Sciences, and received a B.A. with honors in Political Science from Brown University.