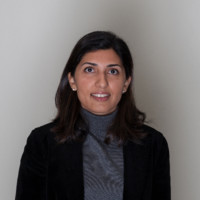 Dr Badri Zolfaghari
Strategy, International Business, Strategic Management, Organisational Behaviour, Qualitative Research Methods
POSITION:
Senior Lecturer
QUALIFICATIONS:
PhD (Durham University), Master of Arts in Management, BSc
CV
Dr Badri Zolfaghari
Dr Badri Zolfaghari lectures in the field of strategy and international business at the UCT GSB and is a researcher in the field of organisational behaviour, with a focus on multi-level trust development across cultures. She is particularly interested in conceptualising and measuring culture, in cultural diversity & integration, and the strategic management of a culturally diverse workforce.
She received her Bachelor's degree in software engineering in Tehran, continued her postgraduate education in management, with a focus on organisational behaviour & innovation and technology management at Durham University Business School, UK. Intrigued by the concept of 'trust', she then commenced on a PhD journey in order to examine a multidimensional conceptualisation of culture and its impact on interpersonal trust development.
Whilst at Durham University Business School, she held the position of a teaching fellow on the postgraduate level, in strategic management & organisational behaviour. She then moved to Munich, Germany where she continued her research activities in the form of conference presentations, workshops and publications with Jacobs University, Bremen. Her academic memberships include the European Group for Organizational Studies (EGOS); Associate fellow of Higher Education Academy (HEA); European Institute for Advanced Studies in Management (EIASM); and First International Network on Trust (FINT).