Busisiwe Mavuso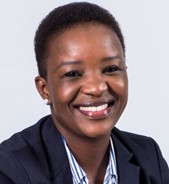 Busisiwe Mavuso is a Chartered Certified Accountant (CCA), qualified with the Association of Certified Chartered Accountants (ACCA - UK) and holds a Masters Degree in Business Leadership, a Postgraduate Qualification in Management from Gordon Institute of Business Science (GIBS) and a B.Compt in Accounting from the University of South Africa (UNISA).

She is the Chief Executive Officer (CEO) at Business Leadership South Africa (BLSA), an independent association of the leaders of some of South Africa's biggest and most well-known organisations - a forum for engaging key players, including civil society and labour, to exchange ideas in the national interest, and to create effective dialogue with the government and other stakeholders.

Busisiwe is also a Non-Executive Director on the Board of ESKOM, Business Unity South Africa (BUSA) and Resultant Finance (a PIC investee company), and serves on the Human Resources Development Council (HRDC), the Advisory Committee of the Local Government Ethical Leadership Initiative (LGELI), The Alcohol Industry Advisory Council (TAIAC) and the Social Justice Council (SJC).

She was previously the Chief Operating Officer (COO) for BLSA. Prior to that, the Managing Director of the Black Management Forum (BMF), during which she was responsible for driving the overall strategy of the organisation, including its representation at various public forums, at the request of the BMF President or Deputy President. Before assuming this role, Busi served as the Chief Financial Officer (CFO) and Operations Director of the BMF, having joined in May 2009. She started her career in Finance in 1995, and over the last 25 years has had experience in a range of industries, ranging from training, consulting, telecoms and the healthcare sectors.

Busisiwe is also a member of the YPO (Young President's Organisation), the Institute of Directors in South Africa (IoD), and the Association of Chartered Certified Accountants (ACCA). Recently, she was awarded the '2020 Influencer of Influencers Award' by the Africa Brand Summit in October 2020.