CEMS MIM Info Session Webinar
Join us for an information session webinar about the UCT GSB's Master of Management Specialising in International Management (MIM) offered in association with CEMS - a global alliance of the world's finest students, schools, alumni, corporate and social partners. The UCT GSB CEMS MIM is a full time study programme offering a dual qualification, with international accreditation from UCT GSB as well as CEMS
When:
13 April 2023 17:30 - 18:30 (GMT+2)
Register for event
More info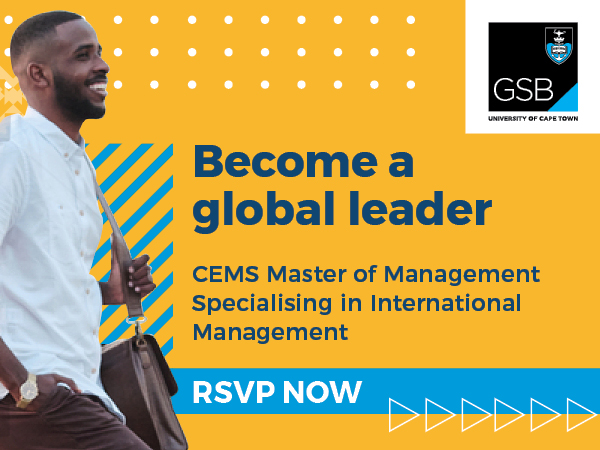 Event information
Join us for an information session webinar about the UCT GSB's Master of Management Specialising in International Management (MIM) offered in association with CEMS - a global alliance of the world's finest students, schools, alumni, corporate and social partners. The UCT GSB CEMS MIM is a full time study programme offering a dual qualification, with international accreditation from UCT GSB as well as CEMS
This one-year master's programme includes:
international management courses
business skills seminars
an international internship and business immersion project with CEMS corporate partners
a credit-bearing study term at one of the CEMS partner universities - which include top global business schools, in 34 countries.
At the conclusion of their studies, MIM students will be awarded both the Master in International Management qualification issued by CEMS as well as the Master of Management specialising in International Management degree issued by the University of Cape Town.
Watch this video to learn more about this exciting programme:
This webinar creates an opportunity for prospective applicants to learn more about the school, the programme and the admissions process. Link to assist you in preparing for the session https://www.gsb.uct.ac.za/academic-programmes/cems-mim