2022 Africa Business Conference: Crisis as a catalyst for change
The Africa Business Club at the UCT Graduate School of Business presents its 2nd Annual Africa Business Conference under the theme: Crisis as a catalyst for change. Join us to explore opportunities amidst the crises currently facing Africa and the world while embracing and overcoming the complexities of doing business in Africa. The event will take place in a hybrid format allowing for individuals to attend online and in person. The in-person tickets will include refreshments, lunch, and networking opportunity at the UCT GSB campus in Cape Town
When:
07 December 2022 08:00 - 16:00 (GMT+2)
Register for event
More info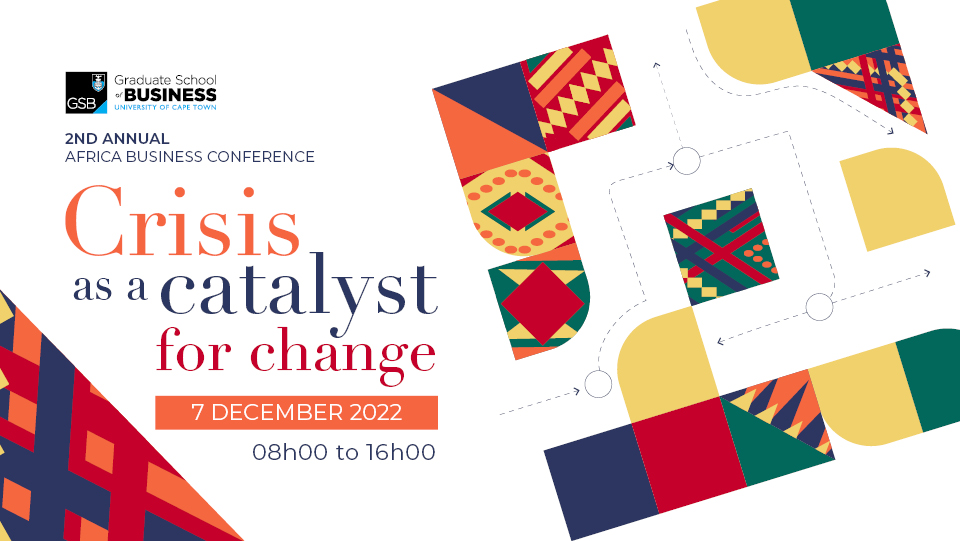 Event information
The Africa Business Conference will bring together phenomenal leaders, professionals and scholars operating and creating an impact on the African continent.
This annual event is built and underpinned by the notion of Business as a Force for Good, highlighting the role of business in Africa's development. In light of the issues facing Africa and the world today, the theme for this year's conference, 'Crisis as a Catalyst for Change,' seeks to unpack opportunities within the challenges in Africa and provide various stakeholders with a platform to share their experiences and ways of navigating the crises and bringing about change.
About the Africa Business Club
The UCT Africa Business Club exists to help African professionals navigate their professional lives with equal dexterity in their given disciplines and their African identity. We explore ideas around what it might look like to create organizations that do not attempt to duplicate models of practice from other parts of the world but generate solutions born out of Africa's unique challenges and opportunities.
Our mission is to create a community of professionals, scholars, and business leaders committed to culturally relevant, socially responsible, and profitable organizations that advance the agenda of a prosperous Africa.
The objective of this year's conference is to raise funds for workshops or courses offered by the GSB Solution Space to individuals doing business in Africa.
Speakers
Ruth Tabbu
Regional Head of Transformation and Customer Outcomes
Ruth has over 20 years' experience in Marketing, Project Management, PR, Training, Facilitation and Customer Service, as well as Supply chain & Logistics areas. She currently is the Africa Regional Head of Transformation and Customer Outcomes at A.P. Moller Maersk, reporting to the Africa Region MD. The purpose of her role is to ensure that CX strategy gets executed through Africa Region and to foster collaboration across functions to bring the customer at the centre of regional business decisions and to support transformation while performing. Ruth is an Operations Excellence expert who has participated in several industry panel discussions on trade and logistics. She is also a trained Facilitator and has delivered numerous training programs for Maersk and externally. She considers herself a Talent spotter and Management guru and is passionate about mentoring and coaching for success, training, and developing people, process improvement, and change management. In her spare time, she follows AI, is a Deaf Sign Language interpreter, and enjoys reading, music, and dancing.
Wendy Thole-Muir
Coca-Cola Beverages Group Head of Strategic Communications and Corporate Reputation
Wendy Thole-Muir is the Group Head of Strategic Communications and Corporate Communication at Coca-Cola Beverages Africa. Coca-Cola Beverages Africa has 17,000 employees and is the eighth largest Coca-Cola bottler globally, by revenue. Wendy has almost two decades of corporate communications and reputation management experience, including 9 years in the Coca-Cola system. She has a proven track record in communication and reputation strategy design and execution, digital communication, executive leadership communication, profiling ESG, diversity, inclusion and transformation initiatives, as well as employee engagement. She is passionate about advocacy by telling stories with purpose, creating conversations that matter, and connecting people through positive engagements.
Claire Barnardo
Case Writing Centre Manager at the UCT Graduate School of Business
Claire Barnardo is the Case Writing Centre Manager at the UCT Graduate School of Business. Founded in 2017, the Case Writing Centre boasts a collection of over 70 teaching cases, some award-winning. Claire has an MA in Media Studies and industry experience as a print editor and journalist. She is passionate about writing and championing African and emerging market business cases.
Joel Baur
Co-Founder and Managing Director of Citra
Joel Baur (*1990) has an MBA from UCT GSB (South Africa), a Master of Science in Architecture from ETH Zurich (Switzerland) and a Bachelor of Science in Architecture EPF Lausanne (Switzerland). During his study of architecture, Joel and a few friends had their own architectural practice in Switzerland. After completing his studies in 2016, Joel moved to South Africa to build up and manage Citra. The co-founders of Citra, Benno Büeler and Andreas Graf, support Joel from the distance when needed. In his spare time, Joel enjoys spending time with his two daughters and wife. Whenever possible, Joel tries to be outside, be it hiking or just walking on the beach. Joel has a passion for music and arts, and he loves languages and fluently speaks German, French, Spanish and English.
Esther Hoogstad
Founder and CEO of Enlabeler
After completing her MSc. in Business Administration and an MBA at ESADE in Barcelona, Esther worked at several multinational companies like British Petroleum (BP), Nike Inc., Naspers & Media 24. Within these companies, she possessed a variety of roles — focusing on (digital) transformation with the aim to service consumers in an easy and seamless way. At Nike she worked on the new nike.com/fcb affiliate model in partnership with F.C. Barcelona and helped shape, and execute, the OmniChannel Strategy for Nike EMEA. In her last role at Naspers (Media 24/ Spree) Esther was Head of Marketing & Customer Interaction and part of the Executive Team. After taking some time off, she decided to focus her efforts on technologically led (social) impact initiatives in South-Africa. She's currently a consultant and mentor to tech start-ups in the Cape, and wishes to make a difference by building digital capabilities and tech-led opportunities for (unemployed) youth.
Thabile Bhengu
Case Writer and Researcher at the GSB's Case Writing Centre
Thabile Bhengu is a Case Writer and Researcher at the GSB's Case Writing Centre. She works to produce research-based teaching cases that showcase African businesses and organisations. Thabile also works as a systems development consultant. She has a BSc in Engineering from Wits University and is currently completing an MPhil at the GSB.
Sarah Boyd
Case Editor at the Case Writing Centre at the UCT GSB
Sarah Boyd is the Case Editor at the Case Writing Centre at the UCT GSB. She has an MBA from the GSB and an MEng from Rensselaer Polytechnic Institute, and previously worked in the manufacturing industry.
Benedicta Durcan
Executive: Ease of Doing Business and Co-Founder of Afrobodies (Pty) Ltd
Benedicta Durcan's work experience has been in complex industries and environments, in both Private and Public sector, spanning 8 years offshore in Upstream Oil and Gas exploration with oilfield service major Schlumberger, 2 years on a global programme with shipping giant Maersk rotating through the Africa Operations Cluster and Southern African Sales teams and the last 8 years and an Executive in the first Freeport in South Africa, the Saldanha Bay Industrial Development Zone trading as Freeport Saldanha. She is also an innovator and contributor in the field of STEM having co-founded Afrobodies (Pty) Ltd in 2016, which is a biotechnology company that produces Alpaca recombinant antibodies. She has a Chemical Engineering background, several other certificates and will be graduating from her Executive MBA with UCT this December. Her EMBA thesis was on the role of Special Economic Zones (SEZ) in the African Free Trade Continental Area Agreement (AfCFTA) and has piqued her interest in the strategies employed and how the AfCFTA can be a catalyst for change.
Valter Adão
Chief Executive and Digital Leader for Cadena Growth Partners
Valter Adão is the Chief Executive and Digital Leader for Cadena Growth Partners, a digital and innovation advisory and venturing organisation that operates at the intersection of strategic and innovative thinking with emerging digital technologies and rapid commercialisation. As a faculty member of Singularity University, a Tedx Speaker, and the recipient of the Constellation Transformation 150 award, which recognises the top global executives leading digital business transformation efforts, as well as the Big 4 professional of the year, Valter is recognised as an expert in the fields of disruptive innovation, business re-imagination and emerging technologies in Europe, the Middle East and Africa. With extensive experience in venturing and commercialising businesses across many industries, Valter works with the CEOs of leading organisations to conceive, develop and scale innovative opportunities and IP into high growth, sustainable businesses.
Ndidi Okonkwo Nwuneli
Founder of LEAP Africa, Changing Narratives Africa and African Food Changemakers
Ndidi Okonkwo Nwuneli is an expert on agriculture and nutrition, entrepreneurship, social innovation, and youth development. She has over 25 years of international development experience and is the founder of LEAP Africa, Changing Narratives Africa and African Food Changemakers (www.afchub.org) . She is also the co-founder of Sahel Consulting Agriculture & Nutrition Ltd. and AACE Foods Processing & Distribution Ltd. Ndidi serves on the boards of the Rockefeller Foundation, the Global Alliance for Improved Nutrition (GAIN), AGRA, Nigerian Breweries Plc. (Heineken), Godrej Consumer Products Ltd. India, the Young Global Leaders of the World Economic Forum, the Bridgespan Group and the African Philanthropy Forum. Ndidi holds an M.B.A. from the Harvard Business School and an undergraduate degree with honors from the Wharton School of the University of Pennsylvania. She was a Senior Fellow at the Mossavar-Rahmani Center for Business & Government at the Harvard Kennedy School, a visiting Scholar at Max Bell School of Public Policy at McGill University, an Aspen Institute New Voices Fellow, and an Eisenhower Fellow. Ndidi is TED speaker, was recognized as a Schwab Fellow and a Young Global Leader by the World Economic Forum and has received numerous awards and recognitions including a National Honor by the Nigerian Government and the 2021 Harvard Business School Distinguished Alumni Award. She is the author of "Social Innovation in Africa: A Practical Guide for Scaling Impact," and "Food Entrepreneurs in Africa: Scaling Resilient Agriculture Businesses," both published by Routledge.