23rd Annual Women in Business Conference
The UCT GSB's Women in Business Society presents its 23rd Annual Women in Business Conference. This flagship event gathers phenomenal leaders and executives from the private, public, NGO and entrepreneurial sectors to celebrate women – the innovators and architects of change - redesigning our present and reimagining our future under this year's theme 'The Butterfly Effect'.
When:
26 August 2022 08:30 - 17:30 (GMT+2)
Register for event
More info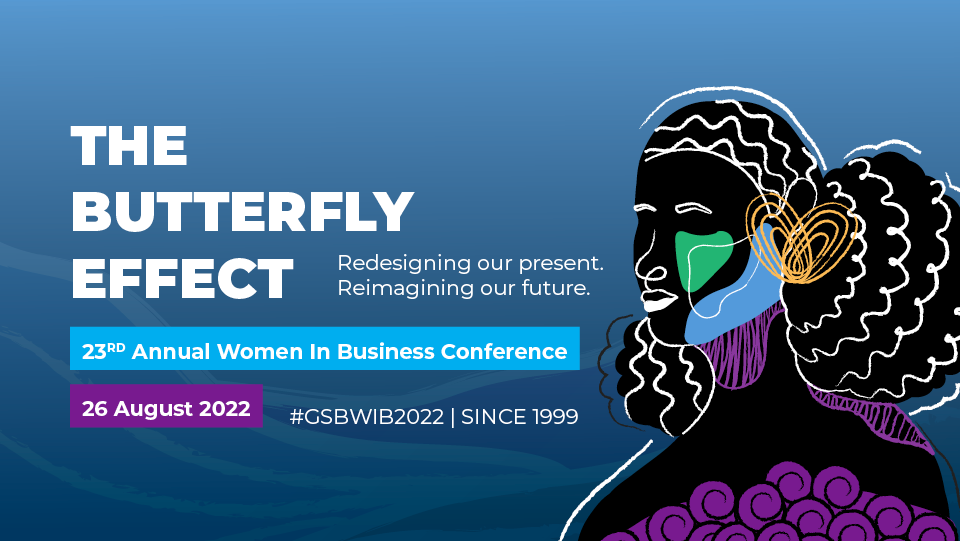 Event information
23rd Women in Business Conference
The UCT GSB's Women in Business Society presents the 23rd Annual Women in Business Conference. This flagship hybrid event gathers phenomenal leaders and executives from the private, public, NGO and entrepreneurial sectors to celebrate women - the innovators and architects of change - redesigning our present and reimagining our future under this year's theme 'The Butterfly Effect'.
"It has been said that something as small as the flutter of a butterfly's wing can ultimately cause a typhoon halfway across the world."
– Chaos Theory
Our world is ever-changing. The last decade has seen huge changes to how we do business, communicate, and connect with others. Much of this change has been spurred by major global events well beyond our control, and we have heard a great deal about the importance of agility and adaptation.
But what about the individuals and organisations embracing first-principles thinking, unleashing creative possibilities for solving the complex problems of our times with a vibrantly new vision for business that goes beyond merely adapting?
Join us for the 23rd Annual Women in Business Conference, hosted by the Women in Business Society, a student initiative at the UCT Graduate School of Business. Since its inception in 1999, the Women in Business Society has sought to encourage and support the active participation of women in the business sector. The forum hosts the annual Women in Business Conference to raise funds for deserving yet financially excluded women – the next generation of disrupters - to study at the UCT GSB.
This year we will gather influential business leaders and delegates to engage and share their insightful and inspiring stories about challenging the status quo and reimagining the future.
This year's Women in Business Conference is proud to be partnered with:
Ticket Pricing Structure:
Standard Ticket @ R900pp - This Ticket offers access to the full day in-person conference on Friday 26th August with buffet followed by cocktails and networking at the GSB Conference roof top.
VIP Ticket @ R1300pp - This Ticket offers access to the full day in-person conference with buffet followed by cocktails and networking at the GSB Conference roof top. This ticket purchase also includes a contribution for 1 young female student to attend the conference in person.
VVIP @ R1800pp - This Ticket includes access to the exclusive Gala Dinner and Auction on Thursday 25th August as well as full day access to in-person conference with buffet followed by cocktails and networking at the GSB Conference roof top on the conference day (26th August). This ticket purchase will include a contribution for 1 young female student to attend the conference in person.
Virtual Ticket @ R250pp - This Ticket offers virtual access to the full day conference on Friday 26th August
Alumni Donation Ticket @ R5000pp - This Ticket offers Alumni and Friends of the WiB Club the opportunity to make a meaningful contribution to the life-changing Women in Business Scholarship. There is no limit to your generosity as there is no limit to the amount of tickets which may be purchased. This ticket also offers access to the full day in-person conference with buffet followed by cocktails and networking at the GSB Conference roof top.
Speakers
Rorisang Lebethe
Unilever Southern Africa Customer Development Finance Director | Keynote Topic: The Butterfly Effect | How small action can make a big difference! !
Rorisang Lebethe is a young dynamic leader from the village of Bethanie, North-West. Armed with a CA (SA) and ACMA qualification she has pioneered throughout various Finance leadership roles within the FMCG industry in Southern Africa. Her signature being that of a legacy of excellence and impactful leadership. At the age of 28, she was the youngest member to be appointed onto the Board of Distell Botswana where she served for a period of 4years. Rorisang believes in the power of education as a stimulus for socio-economical emancipation. As such, she has fulfilled various roles within the Cape Peninsula University of Technology (CPUT) governance structures since 2014, most recently being that of Ministerial appointee to the Council of the University. By extending herself whether as a coach, mentor or education and literacy advocate in her community, Rorisang aims to ensure that more young, black women are exposed to incredible opportunities that afford them the best chance to succeed.
Hannah Sadiki
Bidvest Financial Services Chief Executive Officer. | Keynote Topic: Disruption and Innovation | Spotting the opportunities that will change how the world works
Hannah Sadiki was appointed as the CEO of Bidvest Financial Services and Managing Director of Bidvest Bank effective, 01 November 2020. Prior to taking up this role, she was Head of Personal and Business Banking for Standard Bank Angola. A Medical Technologist by training, Hannah branched into the financial services industry and during her 33year long career at Standard Bank, she has, amongst others, occupied the following roles: Head Customer Channels, Gauteng Provincial Executive, Director Eastern Cape Province and Head Internet Banking. Hannah has served as an executive board member for the Port Elizabeth Chamber of Commerce (PERCCI), Business Woman's Association (BWA) with a portfolio of strategic alliances and advisory board member for the Department of Agriculture in the Eastern Cape Province; Municipal Business Development Agency(MBDA), and Standen South Africa (subsidiary of EISS International) Hospitality management. Currently she serves as an advisory board member of Educations well as Arepp, Theatre for Life which focuses on developing resilient youth. She is a former Corporate Business Woman of the year awardee from the BWA (Business Woman's Association) Eastern Cape Province, Port Elizabeth. She was also previously nominated for the Pick N Pay / Algoa FM Business Person of the year. Hannah has studied Management, Executive Leadership and Coaching.
Jennifer Ramnath
Accenture Managing Director - Technology & Strategy | Keynote Topic : Let there be Change! Redesigning our present. Reimagining our future.
Before taking the role of Accenture SA's Managing Director, Jennifer successfully lead executive roles at Telcom Business, Barclays and the ABSA group. Jennifer is a professional with extensive experience in the areas of Operations, Sales, Service Delivery, Technology, Transformational Change, Strategy Planning and Execution for multinationals in the financial services and telecommunications industry. She is a highly motivated Executive who delivers results and enables growth through constant change in South Africa's financial sector.
Yolande Steyn
Rand Merchant Bank - Head Digital Interactions | Keynote Topic: Girl geek in a world of guys
As the Head of Digital Interactions at RMB, Yolande see herself as both a digital and innovation specialist. For close to 20 years Yolande has been responsible for, or has participated in a number of successful digital innovations which include: MTN CallAwards, eBucks, MTN ICE and Virgin Mobile Australia "Vibe", FNB Cellphone Banking and its subsequent rollout to all of FNB's subsidiaries, FNB eWallet suite of services, Branchless banking for FirstRand Bank India, Branchless banking FNB Zambia, FNB Innovations, Vodacom's new REACT App and eCommerce platform. She combines a passion for technology and business with her creativity and ability to think "out of the box" to create practical, human-friendly innovation.
Dr Mosima Mabunda
General Manager and Head of Wellness at Vitality South Africa. | Keynote Topic: Universal healthcare interventions that improve the health and wellbeing of a Nation
Mosima is a General Manager and Head of Wellness at Vitality South Africa. Vitality is a science based behavior change programme that rewards its members for making healthy lifestyle choices. In her role as General Manager for Wellness, she works with cross-functional teams – to apply clinical, actuarial and behavioral science-to create interventions that improve the health and wellbeing of Vitality members. Mosima has extensive experience in the public and private healthcare sectors spanning multiple countries including South Africa, the United Kingdom and several countries on the African continent. She also has significant experience from her time working for leading global management consulting firms, McKinsey, and Accenture. It is this exposure that adds depth/diversity to her experience and makes her a leading voice on wellness. She is passionate about health inclusion and Universal Health Care, and strongly believes that programmes such as Vitality play a key role in making UHC a reality. Her role includes tackling the challenge of non-communicable diseases, smoking cessation, researching insights into mental health and physical activity and the importance of nutrition in managing wellness. Most recently, she has led a team who delivered globally-published research focused on COVID-19 and physical activity. She also sits on the board of Population Services International, The Ridge School and is the Chairperson for Population Services International South Africa. Mosima is passionate about creating healthy and thriving societies and an advocate of the business' message to inspire everyone to #LiveLifewithVitality
Zulfiq Issacs
CEO Liquid Thought
As Founder & CEO of Liquid Thought, Zulfiq has led the company since its inception in 2001, to become a leading digital innovation agency for the exponential economy. Liquid Thought is made up of 2 business units: 1. Liquid Studio drives Digital Transformation for corporate clients; and 2. Liquid Labs, a Digital Innovation enabler for venture-backed start-ups. In 2009, he co-founded a disruptive FinTech start-up, Moneysmart, one of South Africa's first online Personal Finance Management (PFM) platforms, enabling users to take control of their finances through a secure, easy to use online interface. Today, he continues to work and partner with leading brands and disruptive innovators as a venture builder and enabler of digital business.
Laura Lebang Mutambu
CEO of Thando Kinetics | Keynote Topic: Grit and Professionalism
Laura Lebang Mutambu is the CEO of Thando Kinetics, a manufacturing and supply chain management company based in Polokwane, South Africa with head offices in Johannesburg. She serves on the board of Enviro Plastic Africa, a waste management company where she developed ESG solutions by applying emerging technologies and innovative solutions to improve a plastic recycling process. As a seasoned business executive having worked over 15 years, she has successfully managed supply chain transactions in the following industries: manufacturing, mining, construction, logistics and agricultural chemicals. With operations management under her belt, gained from managing a plant that meets international best practices she has made a name for herself and Thando Kinetics in the SADC region. Laura is a wife and a mother. She is passionate about women empowerment in the manufacturing and logistics industries. Laura also serves on the institutional development committee at her local church.
Simmy Sachar
Chief Marketing Officer, Liquid Thought | Panel Topic: Women in Leadership
Digital Gladiator. Marketing Solutionist. Fitness Enthusiast. In 2015, Simmy joined Liquid Thought as a Content Marketer, but quickly rose up the ranks to build and nurture the marketing division. Since then, she has led this division of the company, both growing and expanding its footprint in SA and beyond. She is a guiding force behind our digital mission and drives both our current narrative and future stories. Today, as the Chief Marketing and Client Service Officer at Liquid thought, she leads the team that develops, implements and rolls out the digital marketing strategies for leading brands that delivers results in an exponential age. Currently reading towards her eMBA at the GSB, Simmy is constantly immersed in the latest trends and knowledge shaping our industry leaders and our offering to the market, ensuring our Clients remain relevant.
Caitlin Krutsinger
Exponential Growth Leader, Futureworld | Panel Topic: Entrepreneurship
Caitlin brings 10+ years experience implementing strategy and growth initiatives for companies of all sizes – from start-ups to Fortune 500 companies. Caitlin is a builder, with experience implementing global mergers and acquisitions, business strategy re -design, and digital behaviour change, with a focus on global tech and media companies. Caitlin is originally from the US with experience working across North America and Sub -Saharan Africa. Caitlin is best known for her creative thinking, speed to insight, and ability to push others to think differently.
Dr. Kinga Mnich
Social Psychologist | Workshop Topic: Setting healthy boundaries with confidence
Dr. Kinga Mnich is an award-winning international social psychologist, educator, and speaker,? specializing in emotions, positive psychology, bio-hacking, and gender. Her work solves the myths of emotions by breaking down the complexity of social & cultural concepts tied up inside emotions. Through her extraordinary research, she brings new ways of understanding how we can use emotions to be who we want to be, create impact and flourish in life (and business). With over 12 years of experience and hundreds of clients, she has developed The Ziva Way method. This method combines social and positive psychology with strategy and mindfulness techniques to help clients create the life and career they desire. In her private practice, Dr. Mnich helps women high-achievers & leaders transform their minds & surroundings by leveraging the power of emotion through neuroscience & positive psychology. As the founder of Ziva Voices - HerStory in the Making she is amplifying women's voices through media. https://www.instagram.com/dr.kingamnich/ https://www.linkedin.com/in/drkingamnich/ https://www.facebook.com/Dr.KingaMnich https://www.pinterest.com/DrKingaMnich/ www.kingamnich.com www.zivavoices.com
Petro de Wet
Senior Stakeholder Engagement and Partnerships Expert, UN | Panel Topic: Women as change agents for the Green Economy
Petro de Wet holds the position as Senior Stakeholder Engagement and Partnerships Expert for the energy and low-carbon work of the United Nations Industrial Development Organization (UNIDO) in South Africa, as part of UNIDO's Energy Department Energy Systems and Infrastructure?Division. She has extensive experience of marketing, communications and project management in a corporate environment, including at various business units at the CSIR, the National Cleaner Production Centre (NCPC-SA) and the National Business Initiative (NBI). She joined UNIDO in South Africa in 2016, contributing to various multi-party projects such as the Global Cleantech Innovation Programme, the international award winning Industrial Energy Efficiency Project, and more recently also the new SA Industry Adaptation project and the regional Energy Efficient Lighting and Appliances project. Gender mainstreaming is a key component of all UNIDO projects, and also forms an important part of her portfolio.
Joy-Marie Lawrence
Founder of Boardvisory (Pty) Ltd
Joy-Marie Lawrence – Founder of Boardvisory (Pty) Ltd Chartered Director (SA) Executive MBA(with distinction) LLM, LLB, BA Professional Certified Coach (International Coaching Federation) A son has an opportunity to be interviewed for a job at a large stock broking company and his father picks him up at the airport to drive him to the interview. Just as they enter the parking area of the company, the son's phone rings, the caller is the stock broking company's CEO who says " Good luck son, you've got this". The son ends the calls and then looks at his father who is still next to him in the car. How is this possible? This is the Mindspace riddle to explore the human mind. It is a useful illustration of why women in business and women in the boardroom remain a critical conversation. As a Chartered Director and accredited Professional Coach, I use my corporate experience and academic training in unlocking exceptional board performance with boards, non-executive directors, executive directors and leaders. If you are curious about actionable ways of being a better director go to www.boardvisory.com. See my LinkedIn bio https://www.linkedin.com/in/joymarielawrence/ If you're still wondering about the afore mentioned riddle, here is a link to the full riddle - Is gender equality in the workplace still an issue? https://www.youtube.com/watch?v=4kFC7669quE
Shivani Ghai
Founder of Vitrus Consulting
Founder of Vitrus Consulting, Shivani combines her Project Management and Strategy skills with her passion for social justice and empowerment to put a new lens on topics of global relevance, with a particular focus on Youth Unemployment on the African continent. She also serves as a coach and facilitator, supporting young and seasoned professionals in their career journeys. Shivani's personal vision is to empower the dis-empowered through kindness, conscientiousness, and action and she chooses to live by these values every day in a meaningful way. She is looking to be part of a world that shares the same values and a culture of empowerment, sustainability, and innovation. Shivani is a child of the world with love for all its people and cultures. Her passions include traveling, hiking,and educating and empowering the young and restless.
Precious Schulte to Brinke
Current MBA Mod Student and Scholarship Recipient
A learner at heart, mother of two humans and two fur babies and a recipient of a partial MBA scholarship, Precious has paid that forward by co-chairing the UCT GSB Women in Business Society 2021/2022. Precious's personal purpose is to keep learning, sharing and utilising her knowledge, skills and expertise, to connect people and ideas whilst creating meaningful relationships to bring social impact in an effort to improve the lives of future generations. She has overseen the corporatisation of traditional communities, engaged with key stakeholders to develop and implement strategies for development within rural communities. Her experience encompasses strategic planning, stakeholder management, financial accounting and taxation, financial data analysis, financial statement preparation, and financial projection. She enjoys travelling, "dad jokes", board games, solving puzzles, and reading a good book because life is too short to spend time on a bad one.
Anne Hartslief
Managing Partner | Lockstep (Pty) Ltd| Masterclass Topic: Building Leadership Resilience
"I believe in the power of unleashing the potential that lies at the core of every individual, every team and every business." A seasoned strategic planner and consultant, Anne's career trajectory has been the result of multifaceted leadership prowess, limitless curiosity and purpose-driven ambition. She has steered the Lockstep Leadership Consultancy since 2013. Lockstep works with leaders for businesses that matter. At its essence Lockstep bring holistic, relational, dynamic and most importantly, impactful systemic leadership to life. As an advisor to CEO's and working with Executive Teams, Anne is committed to driving business performance bringing technical operational experience to her consulting role at Lockstep, as well as an instinctive understanding of human behaviour in the workplace gained through years of observation and formal studies. Anne is the proudest Mom of two children Chris and Emma and lives in Cape Town with her husband Brendan. She relaxes by spending time with her family and friends, getting out into nature and testing her grit with trail running.