Allan Gray Speaker Series Webinar: Prof. Mary Gentile
"Giving Voice to Values: The 'How' of Values-Driven Leadership"
When:
07 December 2021 18:30 - 19:30 (GMT+2)
Register for event
More info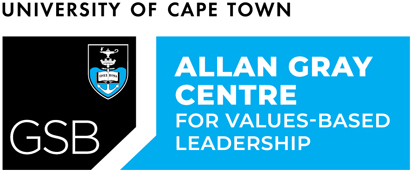 Event information
"Giving Voice to Values: The 'How' of Values-Driven Leadership"
We invite you to be part of the Allan Gray Speaker Series, bringing together individuals with an interest in re-scripting the orientation of organisational & societal life – to more closely reflect positive values which serve the common good, responsible leadership, clean living, embedding hope for the many and challenging the alienation and damage caused by self-serving decisions, actions and behaviours at all individual levels and within organisations.
Speakers
Prof. Mary C. Gentile
Prof. Mary C. Gentile, PhD, is Creator/Director of Giving Voice to Values, Richard M. Waitzer Bicentennial Professor of Ethics at University of Virginia-Darden School of Business, Senior Advisor at Aspen Institute Business & Society Program, and consultant on management education and leadership development. Among numerous other awards, Gentile was inducted into the Thinkers50 Hall of Fame in 2021 and named as one of the "Top Minds 2017" by ComplianceWeek; one of the 2015 "100 Most Influential in Business Ethics" by Ethisphere; and one of the "Top Thought Leaders in Trust: 2015 Lifetime Achievement Award Winners" by Trust Across America-Trust Around the World, January 2015. She was previously "short-listed" for the Thinkers50 2019 award for "Ideas Into Practice" (having also been short-listed in 2017). Giving Voice to Values also won the Bronze Medal in the 2017 Reimagine Education Ethical Leadership Awards. Giving Voice to Values, a pioneering business curriculum for values-driven leadership, has been featured in the Financial Times, Harvard Business Review, Stanford Social Innovation Review, and McKinsey Quarterly, and presented and/or piloted in over 1,330 business schools and organizations globally. The award-winning book is Giving Voice to Values: How to Speak Your Mind When You Know What's Right (www.MaryGentile.com), with translations in Chinese and Korean. Gentile has authored numerous books and articles and partnered with Nomadic.fm on online interactive social cohort-based modules (http://nomadic.fm/ProgDetailGivingVoiceToValues.html). There is a 4-week online course from Coursera/Darden: https://www.coursera.org/learn/uva-darden-giving-voice-to-values. Her latest edited collection with Jerry Goodstein is titled: Giving Voice to Values: An Innovation and Impact Agenda. From 1985-95, Gentile was faculty member and manager of case research at Harvard Business School and one of the principal architects of HBS's Leadership, Ethics and Corporate Responsibility curriculum. She co-authored "Can Ethics Be Taught? Perspectives, Challenges, and Approaches" at Harvard Business School, and was Content Expert for the award-winning interactive CD-ROM, "Managing Across Differences" (HBS Publishing). Gentile earned her Bachelor's degree from The College of William and Mary, and her MA and PhD degrees from the State University of New York-Buffalo.